Posters
---
Infographic Poster Series

Click on each title below to view
---
Purchase a Set Below
---
Question Behavior Poster Series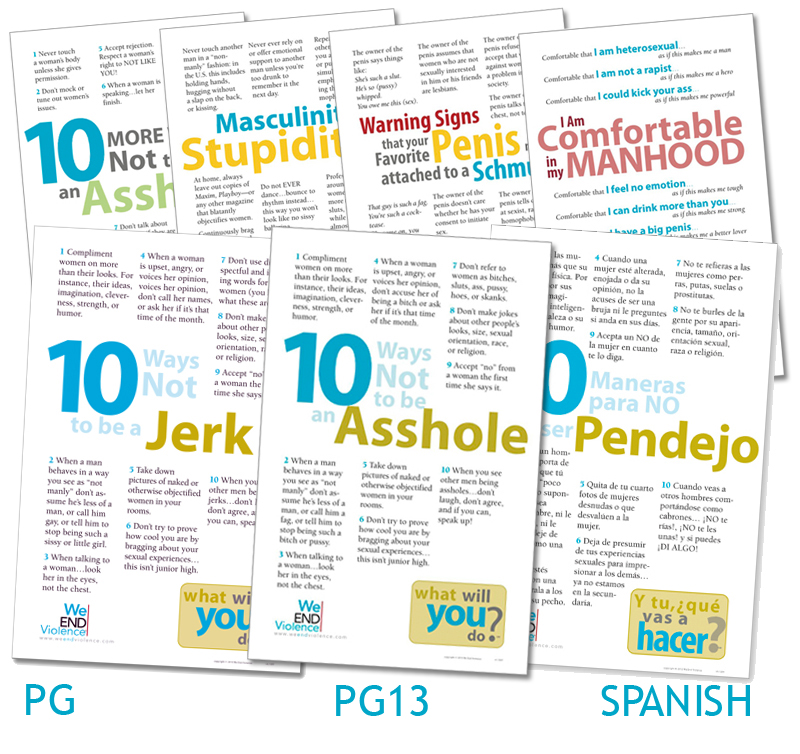 Click on each title below to view
---
10 More Ways Not to Be an Asshole
Warning Signs Your Favorite Penis
May be Attached to a Schmuck
I Am Comfortable in my Manhood
Purchase a Set Below
---
The Bystander Strikes Back Poster Series
We are all bystanders to violence and the language that supports it. There are opportunities every day to make a difference. These empowering posters offer examples and ideas for ways to respond.
Click on each title below to view
---
Purchase a Set Below
---
25% off orders of 5 sets or more. Shipping charges will vary according to amount. Large orders may be customized to include your organization name, logo and contact information for a one-time set up fee of $50. e-mail info@weendviolence.com for all large or custom orders.
---
Please visit our online store for more products. www.cafepress.com/weendviolence
Pocket Guides
---
Purchase a Set Below